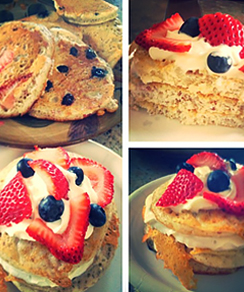 BERRY Yummy Pancakes
Ingredients:
-1 cup blueberries
-1 cup strawberries
-2 cups Skim Plus milk
-3 cups buckwheat pancake mix or any mix
-1/4 cup ricotta cheese (part skim)
-2 eggs
-2tsp cinnamon
-1/4 teaspoon salt
– Pure maple syrup or honey to drizzle
– Extra blueberries and strawberries for topping
– Whipped cream (store bought or homemade)
Directions:
First mix together in a large bowl the pancake mix, cinnamon, salt, eggs, and Skim Plus milk. Scoop in the ricotta cheese. Once mixed thoroughly, toss in the blueberries and strawberries and gently fold into the batter. Let sit for approximately five minutes.
Meanwhile, heat a skillet or non-stick pan to 375 degrees (can use electric or stove top). Make sure you spray with cooking spray or grease with butter.
Once heated to temperature, ladle dollops of batter onto the pan. Flip each one when they start to bubble and brown around the side a bit. Check bottom and remove when appropriately browned on second side.
Once pancakes are done, top each and stack them to make a pancake sandwich. Finally, garnish the top with another dollop of whipped cream and extra berries. Enjoy!
By Triss. D