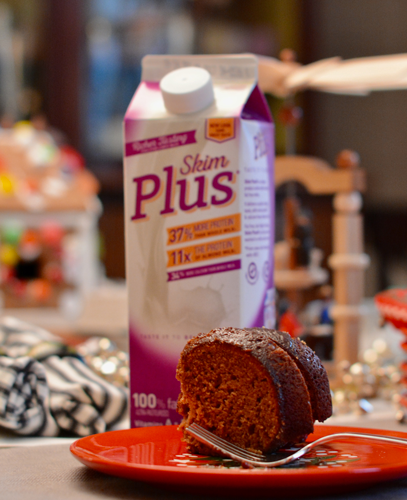 Gingerbread Bundt Cake with Chocolate Glaze
Ingredients:
Makes 1 full cake
3 cups unbleached all-purpose flour
2 tablespoons ground ginger
1 ½ teaspoon ground cinnamon
½ teaspoon ground cloves
½ teaspoon kosher salt
2 teaspoons baking soda
1 cup unsalted butter, room temperature
½ cup dark brown sugar
1 large egg
3/4 cup molasses
1 cup Skim Plus milk
For the glaze:
1 cup confectioners' sugar
1/3 cup cocoa powder
2 tablespoons Skim Plus milk
Directions:
Preheat the oven to 350 degrees. Lightly grease and flour a bundt cake pan and set aside.
In a large bowl sift the flour, ginger, cinnamon, cloves, salt, baking soda, and set aside.
In the bowl of an electric mixer, cream the butter and sugar until light and fluffy. Then beat in the egg, molasses, and milk until smooth.
With the mixer speed on low beat in the dry ingredients until smooth. Then pour the batter into the prepared bundt cake pan.
Bake the cake for 35 to 40 minutes, or until a cake tester inserted into the middle comes out clean. Allow it to cool in the pan for 10 minutes, then invert it onto a wire rack to cool completely.
To make the chocolate glaze: Whisk the sugar and cocoa together, then whisk in the milk until completely smooth. Drizzle the chocolate glaze over the gingerbread cake. Enjoy!!