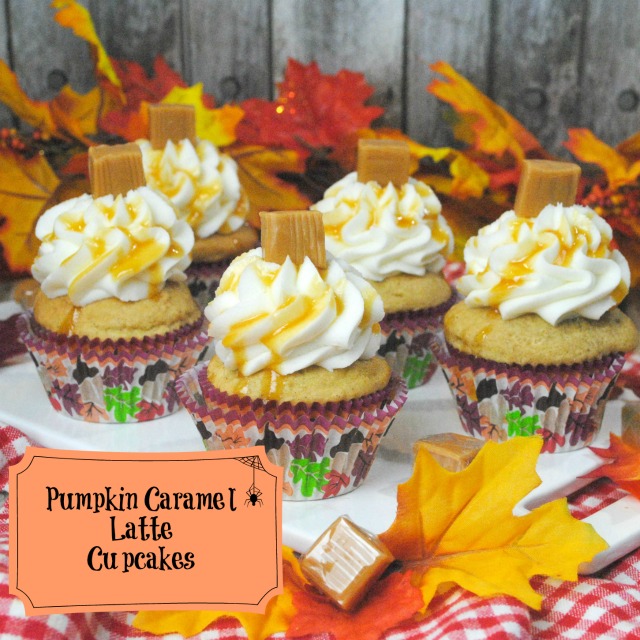 Pumpkin Caramel Latte Cupcakes
Ingredients:
Cupcake Ingredients
Frosting Ingredients:
Caramel topping
Directions:
Baking the cupcakes:
Preheat oven to 350 degrees. Line your cupcake pan with paper liners.
Whisk the flour, instant coffee, baking powder, baking soda, salt, cinnamon, nutmeg and cloves together.
Now in another bowl, blend the pumpkin, sugar (both white and brown), and the vegetable oil until thoroughly mixed. Add the eggs, one at a time, beating after each addition. Start adding in the flour mixture one half at a time and blending in after each addition.
Spoon the batter into the lined baking cups, filling each about two-thirds full. Bake at 350 degrees for 18 to 22 minutes. Remove from the oven but allow the cupcakes to cool in the cupcake pan for about 10 minutes, then transfer them to a wire rack to cool completely.
Making the frosting:
Add the butter to a medium size saucepan. Melt the butter on medium heat. Add the brown sugar bringing it to a boil while stirring. Slowly pour in Skim Plus milk continuing to stir until it comes to a boil. Set aside to cool.
Transfer this mixture to a mixing bowl. Add spoonfuls of powdered sugar to the mixture a little at a time, mixing after each addition. If the frosting is too thin add a tablespoon or two of powdered sugar at a time until it thickens.
Scoop the frosting into a pastry bag with a #13 size tip. Twist the open end of the pastry bag to push the frosting to the tip. Starting at the outer edge of the cooled cupcake frosting in a circle reaching to the center of the cupcake. Drizzle caramel topping on the frosted cupcake and place a caramel in the center.