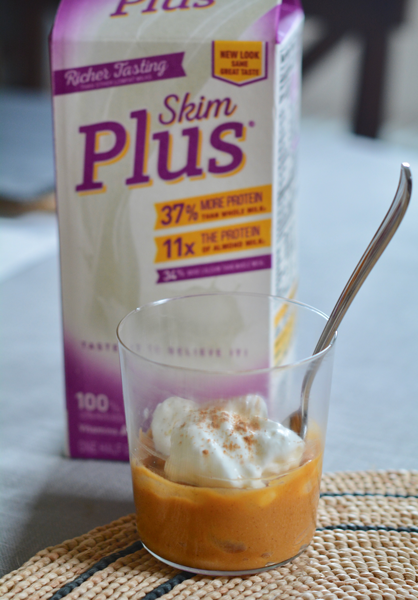 Pumpkin Pot de Crème
Ingredients:
For the Crust:
2 cups graham cracker crumbs
3 tablespoons unsalted butter, melted
For the Pot de Crème:
1 ½ cups Skim Plus milk
3/4 cup pumpkin puree
½ teaspoon pumpkin pie spice
4 large egg yolks
1/2 cup light brown sugar
1 teaspoon vanilla extract
For the topping:
1/2 cup heavy cream
1 tablespoon confectioners' sugar
Ground cinnamon for dusting
Directions:
-Heat oven to 325 degrees F.
– Mix the graham cracker crumbs and the butter in a mixing bowl until evenly coated. Then press even amounts of the crumb into the bottom of 8 small ramekins, or similar size heatproof baking dishes.
-Pour the milk into a small saucepan and bring to a simmer. Remove from the heat and whisk in the pumpkin and spices until smooth. Set aside to cool.
-Meanwhile, put the egg yolks in a large bowl and whisk for a minute, until pale and yellow. Then add the sugar and vanilla extract and whisk again until yellow and frothy.
-Slowly pour some of the milk mixture into the egg yolks, whisking continuously until completely incorporated and smooth.
– Place a piece of cheesecloth over a wire strainer and place the strainer over a clean bowl. Pour the mixture into it and strain out any solids.
– Set up 8 small ramekins in a waterbath and pour even amounts of the pumpkin mixture into each one. Bake for 40 minutes, or until the pudding is set and just a little jiggly in the center. Set the ramekins on a wire rack to cool completely.
– Make the whipped cream, whipping the heavy cream with the sugar until soft clouds form.
– Top the cooled pot de crème with the whipped cream, dust with cinnamon if desired. Serve.